The Philip Presant's for Five Generations
That's right, there were five generations of Philip Presant's, starting in 1796 or 1797 with the baptism of Philip in Great Yarmouth. The earliest record I have for this person is his occupation as a licensee of the Princess Charlotte Beerhouse (or Pub), located at 94 George street in Great Yarmouth. By 1830 another person is given this license and it is not until the 1841 census that we learn he is now a Butcher by occupation, just like his father and three of his brothers. The International Genealogical Index maintained by the Mormon Church indicate he is married to Mary Ann Caryl in 1820 at Acle, Norfolk. This village is located between Great Yarmouth and Norwich. In my research of the Presant's in Norfolk, they are generally located in this area.
Philip and Mary Ann had nine children. Philip b: 1820 and featured below; Thomas b: 1823 and surving till age 67 in the Norwich area with his occupation as Locomotive Engine Mechanic (or fitter); Mary b: 1824; Robert Charles b: 1826, occupation Silk Weaver in Norwich; William b: 1828; Ellen b: 1829, marries in 1851 in Great Yarmouth to a William Page, occupation Mariner; Henry b: 1834, occupation Corn Chandler and dies at age 64 in Great Yarmouth; Sarah b: 1835 and a servent in Great Yarmouth at age 18; and George b: 1837.
Philip and Mary Ann's elder son Philip first shows up on the 1841 census in Norwich as a butcher at age 21. I have a registration of his marriage on June 20, 1842 at St. Paul parish for Philip Presant, which shows his occupation now as a Bricklayer. Residence at time of marriage is Magdelen Gates St. Paul. The bride is Amelia Ellis, occupation Servant, resding nearby.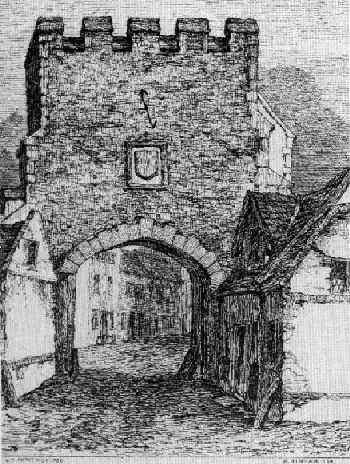 Magdalen Gates Norwich
The 1851 census shows Philip is now a Bricklayer, living at Magdalen St. Cross Key Yard, Norwich. Along with his wife Emily, age 22, there is Randall age 4 and Philip age 2. There had already been one child die in the family by now. Philip and Emily named their first born named Philip, born March 2, 1843, and a registration of death shows this child died July 14, 1845, age 2 years of smallpox. They were to have six more children after these three; Mary Ann Caroline b: 1854, occupation boot machinist, marries and lives in the Norwich area; Catherine b: 1856 who marries Charles Harrison and has eleven children of her own; Emily b: 1859, occupation boot machinist; Herbert Christmas b:1865 and you can guess on which day (it was quite common in this area to name someone Christmas if born on this day). Herbert's family provided me a lot of information for my research.
I have a picture of a gravestone in the Earlham cemetery, Norwich. Inscription is "In Loving Memory of Randall Presant, eldest son of Philip and Emily Presant who died August 7, 1874 at age 28." The civil registration of death for Randall show he died at The Hospital, Norwich, age 28 years, occupation bricklayer. Cause of death was pleuro pneumonia cancer of the liver. There are two other inscription on the headstones, one for Philip Presant who died October 26, 1894 age 74, and Emily Presant who died December 18, 1894 at age 72. I found the headstone below in Norwich and it measures about 5 feet high.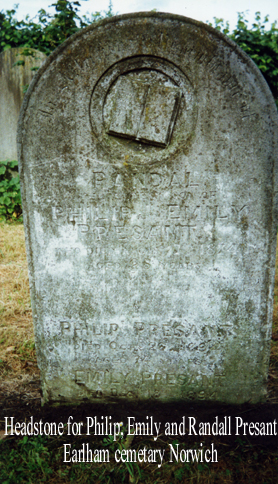 There were other Presant's around here, the problem was finding them in the short time I was here. I have posted their names below and hope that if someone in the future finds their markers, so they could possibly send me an inscription and picture.
Norwich Cemetery Earlham Road
Name

Year of Death

Robert Presents

1863

Thomas Presents

1865

Elizabeth Present


1871


Arthur Present


1871


Albert Present


1873


Charles Present


1873


Randall Presant (as above)


1874


Elizabeth Present


1874


Charles Present


1875


Alice Maud Presence


1875


Mark Presant
(died age 80, wife is Elisabeth)


1879


Emily May Presant
(dau of Herbert Christmas, aged 2 months)


1884


Herbert George Present
(son of Herbert, aged 1 day)


1885


Lily Susan
(died age 17, dau of Philip & Emily)


1888


Walter James Presant
(died age 2, son George & Alice)


1888


Edward Presence


1890


Susan Presant


1890


Bertie Thomas Presant


1890


Philip Presant (as above)


1894


Emily Presant (as above)


1894


Herbert George Presant
(death at age 1 day)


1895


Eliza Mary Presant


1896


Hannah Louisa Presant


1896


Elsie Victoria Presant


1898


Thomas Presant


1899


Emma Lily Presant


1899


George William Presan
(died age 47, wife Emily)


1905


Henry Alfred Presence


1905


Philip Daniel (son of John William, aged 22 months)


1906

Philip Presant No. 3 is like his father, a bricklayer, and is married in 1875. Philip was 27 years old and living in New Catton. The bride is Mary Ann Lucas , age 24, whose occupation is tailoress, residence New Catton also. They had two children, Philip Henry and Harry. The fourth and last Philip b: 1876 was born on March 9, 1876, at Bakers Road St. Martin at Oak, in the sub district of Coslany, Norwich. The 1891 finds the family still living on this street, at no. 54 of which I have a picture below. At this time both Philip Henry, age 15 and Harry, age 12, have occupations as tailors cutter. Both sons later emigrate to Canada with their brides they marry in Norwich.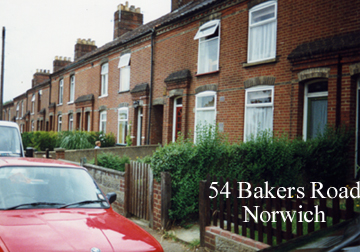 Philip Henry (No. 4) marries Emma Bacon in 1895 in Norwich. They have three children in Norwich, Cecil b: 1895, Bertie b: 1897 and Hebe b: 1901. In 1900 the licensee record for the Jolly Gardners Pub in Norwich shows that Philip Henry has taken over from his inlaws, Anthony and Emma Bacon, an establishment that also included a bowling green in the back. But by early 1902 he has gone bankrupt. It is between this time and the birth of the 5th and last Philip Presant, Philip Arthur b: 1912 in Toronto that we know approximtely when he emigrated to Canada. Both Cecil and Bertie join the 1st Contingent of the CEF in Toronto and are featured in the Presant's in the CEF link.