Below is my latest research to date. My research leads me to Presant's living in West Norfolk England in the early 1700's
I recently returned from a trip to England and had a chance to do on site research. The following discovery has pushed my research of the Presant's back to the early part of the 18th century. I visited St. Mary the Virgin in Wiggenhall, Norfolk. There are two monuments among many at this site that are important.
My first photo below on the left shows St Mary the Virgin overall and church yard with monuments. The center photograph shows two monuments in the foreground that are for George and Elizabeth Presant. The third photograph below on the right is a close up two monuments side by side of George Presant and Elizabeth Present. For George Presant the monument inscription on the left is as follows: In Memory of George Presant who departed this life January 29th 1789 aged 71 years. I took dirt and rubbed it into the faint inscriptions to attempt to highlight and read them better so this is the darker rubbings you see.
The second monument on the right, next to George is for his wife Elizabeth. The inscription: In Memory of Elizabeth Present wife of George Present who departed this life March the 31st of 1780 aged 66 years. There are four lines at the bottom of the monument and because of the wear I could only make out the words 'husband', 'bond', and 'love'. It did not appear to indicate additional family names or dates. Note that this monument has the name Present, not Presant.
My research continues but George and Elizabeth are in my opinion the parents of William Presant who is highlighted below.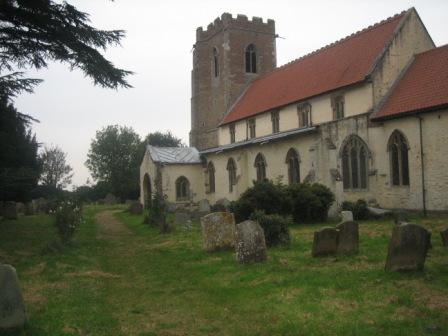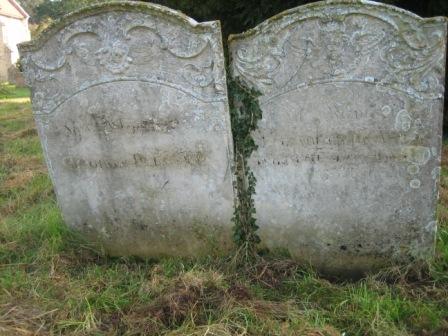 You can find more information about this church at http://www.norfolkchurches.co.uk/wiggenhallstmary/wiggenhallstmary.htm and this parish at http://www.origins.org.uk/genuki/NFK/places/w/wiggenhall_st_maryvir/
The following excerpt is from the Apprentices of Great Britain 1710-1774. National Archives piece number 56/120 (within Series IR1) shows that in 1767 a Wm PREASANT was apprenticed to a Jn (John) Wardell of Lynn (King's Lynn, Norfolk) as a but (Butcher), for a premium of 10 pound/10 shilling. An apprenticeship indenture was a legal document whereby a master, in exchange for a sum of money (the premium), agreed to instruct the apprentice in his trade or "mystery" for a set term of years. The provision of food, clothing and lodging was generally part of the agreement. Kings Lynn is approximatley five miles to the north of St. Mary the Virgin Wiggenhall.
(click image to see full size)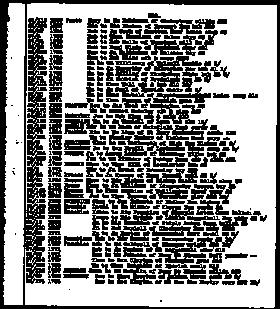 This Wm (William) PREASANT is most likely the same person shown below. Since an apprenticeship would occur for a young man about age 16, the apprentice would have been born about 1751. . The death in 1816 and birth year of 1751 for William Presant comes from a monumental survey (headstone and marker inscriptions) done in the late 1800's. I have included a postcard picture of this church, St. Andrews, from 1902. This survey reported two headstones, described below, and the first one had four names.
Presant, William - late of Gt. Yarmouth - died 3 June 1816 aged 65 years.
Mark his son, died 17 April 1797 aged 4 years.
John Presant died 19 June 1836 aged 52 years.
Susanna, wife of William P. died 29 Aug. 1839 aged 77 years.
Presant, Mary Ann - wife of William died 21 Sept. 1825 aged 29.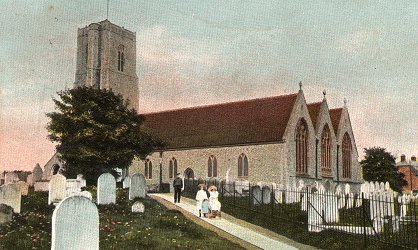 This William is the oldest Presant I have been able to find at this time and verify as a relation. But my search still continues. Did his father go by another different, yet nearly similar surname on paperwork that has eluded me? There is evidence to suggest the name was spelled Presson or something similar. Or is that next link to the past buried in some parish record that I have just not had time to look into yet? Let's start the family history with William and Sussanah Presant and children...
---
Proposed DNA Presant Surname Study for Family Research
Recent new technology now provides for genetic tests to explore the Presant name where paper trail limitations now exist, by DNA testing the male Y chromosome. I am curious if other male Presant's, or those with similar names, might be interested in providing samples of their DNA for family research. The purpose would be to:
Find connections among those men with the surname Presant.
Discover if those with similar surnames, Presain, Present, Paysant, Presson, Presence, etc., may be related.
Discover geographic origins of the Presant name, to provide possible correlation of Presant family tradition that says the name is of Huguenot, or French region origin.
If you are a male who would qualify, or know of a male that fits the criteria listed above, and are interested in supplying your DNA, please contact me below. There is a cost involved. A good site for further information on this subject can be found at: http://www.cyndislist.com/dna.htm.
My DNA Results have been completed and are posted.
I have completed my DNA testing and the results can be found at www.ysearch.org, where my ID is BK8BK. I tested through Family Tree DNA, www.familytreedna.com. I am also a member of a DNA project specifically for East Anglia in England, which can be found at http://www.geocities.com/thurlowons/eagdna/frame_set.html.
The results indicate the following:
There are no close matches to my DNA in public databases. At this time the earliest most common ancestor related to my DNA goes back approximately 40 generations, about 1200 years. This long time frame provides no useful genealogical assistance.
My DNA results can be mapped onto branches of the human genetic tree, called haplogroups. My haplogroup is R1b1c and an explanation of this information can be found at http://www.isogg.org/tree/index.html. At this time the testing I have done indicates no match to known subclades, or what I like to think of as "tribes" of the human genetic tree under the R1b1c branch. Frustrating, but may reinforce that the Present DNA is not localized to England but in Continental Europe.
I will need to wait a couple years until further research is done on the R1b1c haplogroup and its subclades, to find out where my DNA fits in with future discovered regional subclades in western Europe.
That other male Present DNA out there is needed to provide for greater research into the R1b1c subclade and give me some close matches. This would allow those participants to get a much earlier most common ancestor.
---
---
If you are a Presant, or related to one, please contact me at Webmaster@presant.com, or write me at: Steve Presant, 317 Mitchell Ave., Tulare, California 93274.
My web page has received this many hits.....